The Islamorada Fishing Club
Nestled in the fishing capital of the world, the IFC offers novice and expert fishermen alike a place to experience camaraderie like no other.
If you like fishing and care about the future of our fisheries and environment, you are bound to meet like-minded people from all walks of life brought together by their passion for fishing and conservation at the Islamorada Fishing Club.
Message from the Staff (April 2021)
Dear Members,

I know a lot of you are getting ready to say goodbye for now, and heading home for the summer. This has been one heck of a year where we all got to express ourselves with different patterned masks, fist bumps, elbow rubs and a whole bunch of other things that made this year so unusual.

Well, its time we all get our vaccines and put this behind us so that we can get back to shaking hands, hugging, seeing loved ones and all the things we missed out on this year. The staff and I take great pride in how we handled this very fluid situation this past year and that we were able to keep our club going and serve all of you.

We want to thank all of you for your patience, understanding, sarcasm, staff donations etc.…. However it was the joy and laughter you brought that was the most rewarding of all. It is something we treasure each and every day.

On behalf of,
Vinnie, Jeff, Chef Dave, Annie, Connie, Lilly, Marguerite, Suelsa, Charlie, Shawn & Jamie
Islamorada Fishing Club
Message from the GM (April 2021)
Dear Members,
Thank you to all our members who came to our annual meeting via Zoom . It has been a over a year since we began this "New Normal" and it was a great pleasure to see all our members who attended our Family Style Easter Brunch this year!

Thank you for all your comments over the past year on the performance of the staff given these unusual times. Every Month I Receive questions about member billing. We bill your credit card twice a month. On the 1st of the month, which covers all charges from the 15th of the prior month to the end of the prior month, plus dues & any unspent food & beverage minimums due. The 2nd billing is on the 15th of every month which covers all charges from the 1st to the 15th of the current month. If you have any questions regarding your statements and or the billing process, don't hesitate to call me, I hope this explanation helps.

Spring is in the air & tarpon abound. We are still experiencing a great season and looking forward to a very busy April & May. Please make any dinner reservations 24 to 48 hours in advance. Please be considerate to your fellow members & make sure to have your parking/name card on your dashboard when you come to the club and park 3 deep pulling all the way forward.

Sincerely,

Vinnie Feola
General Manager
Islamorada Fishing Club
2021 IFC Captains Cup Sailfish Tournament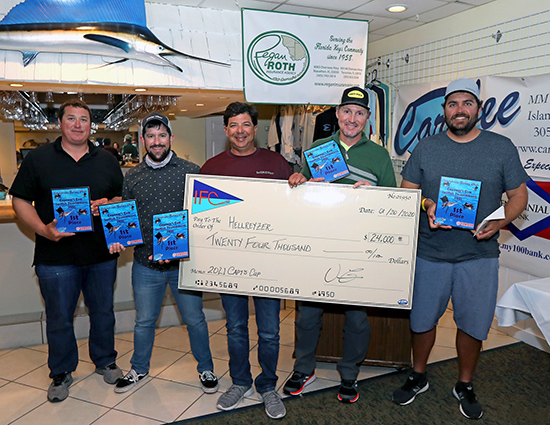 January 20, 2021 -
The Islamorada Fishing Club welcomed 70 anglers fishing on 24 boats for the Islamorada Fishing Club Captain's Cup Sailfish Tournament. The single day fishing tournament boasted $24,0000.00 for the winning boat. Captain Ryan Alexander would call in the first hook up at 8:10 aboard the Hell Reyzer, releasing the fish two minutes later. It would be a day of multiple hook ups. Top'd Out would be the first to release a double header by 8:55. Yabba Dabba Doo would follow them releasing a double followed by Caribsea with a triple to add to their single release earlier in the day. Just after noon the Yabba Dabba Doo would release another double header and Skip Jac released a triple. Hell Reyzer would stay in the hunt with another single release followed by a double.
When the committee boat called lines out at 4PM anglers Juan (Johnny) Vilorio, Eric Darvill, Victor Paneda all from Cutler Ridge FL aboard the Hell Reyzer would take home Caribee Boat Sales and Yamaha Outboards sponsored trophies along with the big check. Second place went to Caribsea anglers Kenny Spaulding and Lee
Gahagen from Islamorada, fishing with Clint Rodamer from Marathon, Fl. Captain KC Spaulding and his team were awarded Baker Mitchell Plumbing Supply sponsored trophies for their 4 sailfish releases. Captain James Hagen of the Yabba Dabba Doo took third place with four fish on time. Anglers Robert Richardson Sr, from McKinney TX along with Jack Renfroe of Islamorada, FL would take home the third place awards sponsored by Regan Insurance and Tackle Center of Islamorada.
"The Islamorada Fishing Club put on another great event", stated tournament director Dianne Harbaugh. "The great food and service the club provides makes it a fun place to have a party." In total 36 fish were released in the one day event. The Islamorada Fishing Clubs Captains Cup Dolphin tournament will be held June 24 th 2021.

See the IFC tournament results here
IFC Covid-19 Protocols for 2021
Although the State has moved into Phase 3, Monroe County still requires a face covering in all business's upon entering, once you have been seated you may remove your mask. If you get up to use the restroom or converse with friends at another table, you must wear a mask.

Despite moving to phase 3, we will not be filling the club to capacity. We will also try our best to keep all table reservations at a safe distance We will not be restarting our Friday night happy Hour until further notice We are currently only serving lunch Thursday, Friday & Saturday . All these steps are in the best interest of all members and staff.
You are required to make a reservation to dine at the club. Please make reservations, preferably 24 – 48 hours in advance to secure a table at your requested time. Same day and last-minute reservations will take all guidelines into consideration. Please arrive on time for your reservation and know that in some cases we may have to re-seat your table to allow other members access for dinner.
Bar seating will be available only for cocktails prior to moving to your table, so long as it does not exceed your reservation time. We ask for all member's cooperation as it applies to reservations and face coverings. All these steps are in the best interest of all members and staff. We will continue to do this for all our protection & so that we may continue to serve you throughout these unprecedented times.