The Islamorada Fishing Club
Nestled in the fishing capital of the world, the IFC offers novice and expert fishermen alike a place to experience camaraderie like no other.
If you like fishing and care about the future of our fisheries and environment, you are bound to meet like-minded people from all walks of life brought together by their passion for fishing and conservation at the Islamorada Fishing Club.
Message from the GM (October 2021)
Dear Members,
The club is re-opened, and we are anxiously awaiting the return of all the snowbirds.

I would like to take this time to remind everyone that a reservation is required by all members wishing to dine at the club.

Please make your dining room reservations 24-48 hours in advance, & notify the club promptly of any cancellations or changes to your reservation.

Please remember we are serving lunch Thursday, Friday & Saturday only.

Sincerely,

Vinnie Feola
General Manager
Islamorada Fishing Club
2021 IFC Captain's Cup Dolphin Tournament Results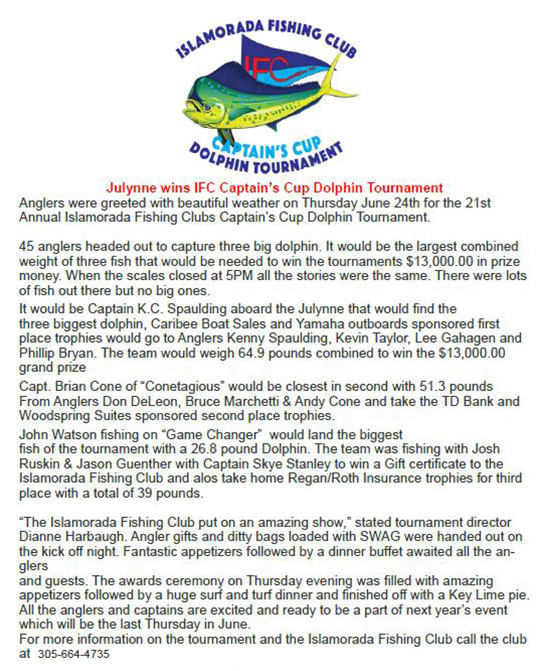 2021 IFC Captains Cup Sailfish Tournament Results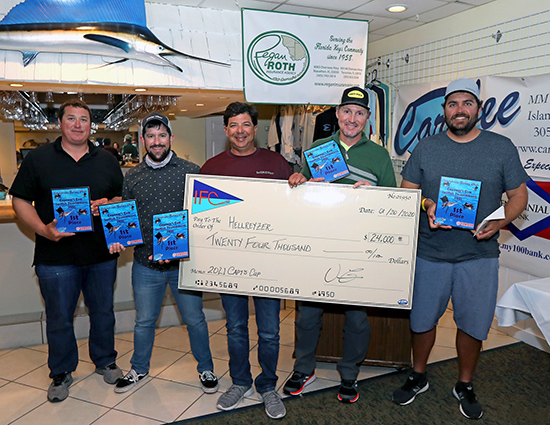 January 20, 2021 -
The Islamorada Fishing Club welcomed 70 anglers fishing on 24 boats for the Islamorada Fishing Club Captain's Cup Sailfish Tournament. The single day fishing tournament boasted $24,0000.00 for the winning boat. Captain Ryan Alexander would call in the first hook up at 8:10 aboard the Hell Reyzer, releasing the fish two minutes later. It would be a day of multiple hook ups. Top'd Out would be the first to release a double header by 8:55. Yabba Dabba Doo would follow them releasing a double followed by Caribsea with a triple to add to their single release earlier in the day. Just after noon the Yabba Dabba Doo would release another double header and Skip Jac released a triple. Hell Reyzer would stay in the hunt with another single release followed by a double.
When the committee boat called lines out at 4PM anglers Juan (Johnny) Vilorio, Eric Darvill, Victor Paneda all from Cutler Ridge FL aboard the Hell Reyzer would take home Caribee Boat Sales and Yamaha Outboards sponsored trophies along with the big check. Second place went to Caribsea anglers Kenny Spaulding and Lee
Gahagen from Islamorada, fishing with Clint Rodamer from Marathon, Fl. Captain KC Spaulding and his team were awarded Baker Mitchell Plumbing Supply sponsored trophies for their 4 sailfish releases. Captain James Hagen of the Yabba Dabba Doo took third place with four fish on time. Anglers Robert Richardson Sr, from McKinney TX along with Jack Renfroe of Islamorada, FL would take home the third place awards sponsored by Regan Insurance and Tackle Center of Islamorada.
"The Islamorada Fishing Club put on another great event", stated tournament director Dianne Harbaugh. "The great food and service the club provides makes it a fun place to have a party." In total 36 fish were released in the one day event. The Islamorada Fishing Clubs Captains Cup Dolphin tournament will be held June 24 th 2021.

See the IFC tournament results here