News & Events
IFC Captains Cup Sailfish Tournament
$25000.00 ~ WINNER TAKE ALL

Attention Captains, Anglers & Mates! Don't miss your chance to win up to $25,000.00 in prize money!

The Islamorada Fishing Clubs Captains Cup Sailfish Tournament kicks off on January 26th with fishing on January 27th. This is the final leg of the Gold Cup series and space is filling rapidly, so grab your fishing buddy and sign up today!

This one day all release sailfish tournament is limited to 30 boats. With a full field the prize money may be increased to $30,000.00. The tournament entry fee is $2,500.00 and $300.00 for a 3rd angler and includes 3 social tickets for each night.

Don't miss out! Call the Club to enter today 305-664-4735.
Happy New Year!
Dear Members,
I hope everyone had a wonderful holiday season!!!

Now that season is here and with the Holidays behind us, we can all look forward to a Healthy, Happy and Prosperous New Year.

I would like to encourage all members to make your Dinner reservations at least 24 to 48 hours in advance. We will gratefully accept last minute reservations with time and space availability being considered.

The Staff and I would like to take this opportunity to thank the many members for their generous contributions Towards our Christmas Bonus Pool. Your generosity is always much appreciated. It has been our pleasure to have served you this
past year.

Sincerely,

Vinnie Feola
General Manager
Islamorada Fishing Club
2021 IFC Captain's Cup Dolphin Tournament Results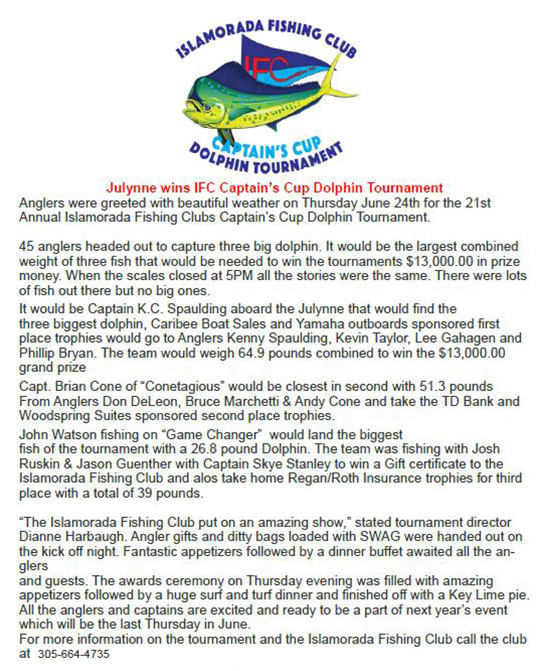 2021 IFC Captain's Cup Sailfish Tournament Results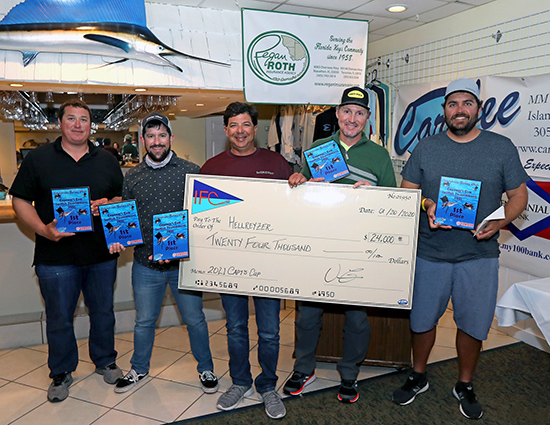 January 20, 2021 -
The Islamorada Fishing Club welcomed 70 anglers fishing on 24 boats for the Islamorada Fishing Club Captain's Cup Sailfish Tournament. The single day fishing tournament boasted $24,0000.00 for the winning boat. Captain Ryan Alexander would call in the first hook up at 8:10 aboard the Hell Reyzer, releasing the fish two minutes later. It would be a day of multiple hook ups. Top'd Out would be the first to release a double header by 8:55. Yabba Dabba Doo would follow them releasing a double followed by Caribsea with a triple to add to their single release earlier in the day. Just after noon the Yabba Dabba Doo would release another double header and Skip Jac released a triple. Hell Reyzer would stay in the hunt with another single release followed by a double.
When the committee boat called lines out at 4PM anglers Juan (Johnny) Vilorio, Eric Darvill, Victor Paneda all from Cutler Ridge FL aboard the Hell Reyzer would take home Caribee Boat Sales and Yamaha Outboards sponsored trophies along with the big check. Second place went to Caribsea anglers Kenny Spaulding and Lee
Gahagen from Islamorada, fishing with Clint Rodamer from Marathon, Fl. Captain KC Spaulding and his team were awarded Baker Mitchell Plumbing Supply sponsored trophies for their 4 sailfish releases. Captain James Hagen of the Yabba Dabba Doo took third place with four fish on time. Anglers Robert Richardson Sr, from McKinney TX along with Jack Renfroe of Islamorada, FL would take home the third place awards sponsored by Regan Insurance and Tackle Center of Islamorada.
"The Islamorada Fishing Club put on another great event", stated tournament director Dianne Harbaugh. "The great food and service the club provides makes it a fun place to have a party." In total 36 fish were released in the one day event. The Islamorada Fishing Clubs Captains Cup Dolphin tournament will be held June 24 th 2021.

See the IFC tournament results here