News & Events
Message from the GM (March 2023)
Dear Members,

Thank you to all equity members who voted in this past election. Our current board members have been re-elected, and they will continue to do a great job for the club. The Proposed By-Law Change to Vote Electronically has also been adopted.

Now that it is high season, I strongly recommend that all members make Dinner reservations as far in advance as possible or at a minimum of 24 to 48 hours in advance. We will gratefully accept last-minute reservations with time and space availability being considered.

I would like to take this opportunity to invite all our members to our annual Meeting on March 16th at 6 pm This is an opportunity to meet your newly appointed officers, hear the status of the club & have a brief overview of the past year.

Immediately following our annual meeting, there will be a member appreciation party. This will be a members-only event.

Please be considerate to your fellow members & make sure to have your parking/name card on your dashboard.

Our New Parking Area, which is 400 feet north of the club on the right side, is open for business; there is a driveway on the south side of the open area to enter our lot. (Look for the IFC signage above the entry) Follow the driveway to the block wall under the lights.

Sincerely,

Vinnie Feola
General Manager
Islamorada Fishing Club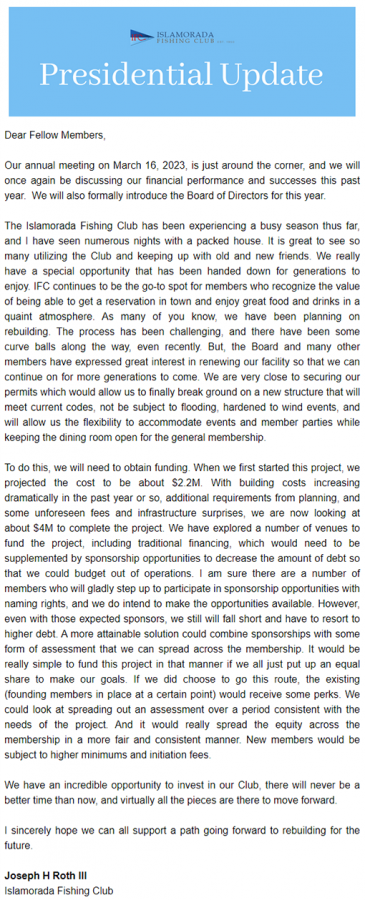 Conetagious wins 2022 IFC Captains Cup Dolphin Tournament!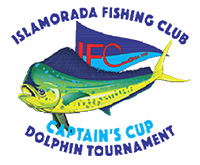 Anglers were greeted with beautiful weather on Thursday, June 30th for the 22nd Annual Islamorada Fishing Clubs Captain's Cup Dolphin Tournament.

49 anglers headed out to capture three big dolphin. It would be the largest combined weight of three fish that would be needed to win the tournaments $15,000.00 in prize money. When the scales closed at 5PM all the stories were the same. There were lots of fish out there but no big ones.

It would be IFC Member Captain Brian Cone aboard the "Conetagious" that would find the three biggest dolphin. Caribee Boat Sales and Yamaha outboards sponsored first place trophies would go to Anglers IFC Member Travis Bennet, Don DeLeon And Tim Rahn The team would weigh 94.3 pounds combined to win the $15,000.00 grand prize.

And also landed the biggest fish of the tournament with a 34.1 pound Dolphin
Capt. Chris Ware of "Executive Decision" would be closest in second with 83 pounds
From Anglers John & Jill Paglia, Brandon Simmons & Mike Kasten and take the TD Bank sponsored second place trophies.

Captain Skye Stanley fishing the "J Watty-Hoo" with Anglers John Watson, Reese & Jason Guenther & Aaron Watson would take home trophies for third place with a total of 60 pounds, Sponsored by Regan/Roth Insurance.

"The Islamorada Fishing Club put on an amazing show," stated tournament director
Dianne Harbaugh. Angler gifts and ditty bags loaded with SWAG were handed out on
the kick off night. Fantastic appetizers followed by a dinner buffet awaited all the anglers and guests. The awards ceremony on Thursday evening was filled with amazing appetizers followed by an Asian Themed dinner and All the anglers and Captains are excited and ready to be a part of next year's event which will be the last Thursday in June 2023.

For more information on the tournament and the Islamorada Fishing Club call the club or visit www.theislamoradafishingclub.com.