2023 IFC Captains Cup Dolphin Tournament
Tournament Dates
June 28 & 29, 2023
Conetagious wins the 2023 IFC Captain's Cup Dolphin Tournament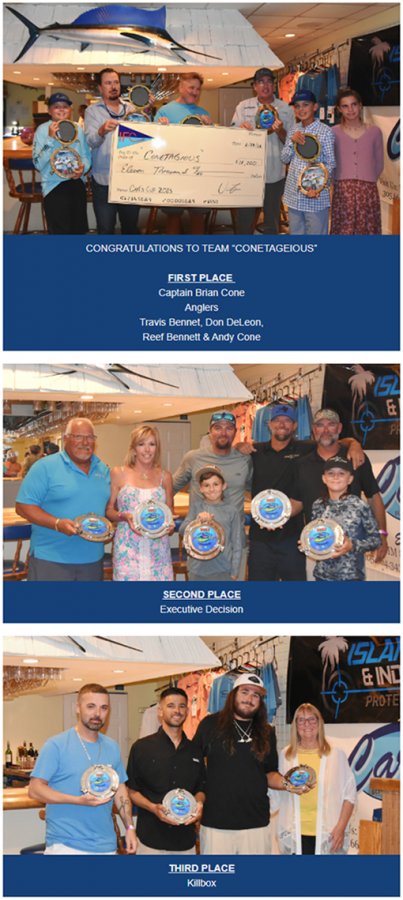 Anglers were greeted with flat seas & extremely hot weather on Thursday, June 29th, for the 23rd Annual Islamorada Fishing Clubs Captain's Cup Dolphin Tournament.

41 anglers headed out to capture three big dolphin. It would be the largest combined weight of three fish that would be needed to win the tournaments $11,000.00 in prize money. When the scales closed at 5 PM, all the stories were the same. There were lots of fish out there but no big ones.

It would be IFC Member Captain Brian Cone aboard the "Conetagious" that would find the three biggest dolphin. Caribee Boat Sales and Yamaha outboards sponsored first-place trophies would go to Anglers IFC Member Travis Bennet, Don DeLeon, Reef Bennett, and Andy Cone. The team would weigh 21 pounds combined to win the $11,000.00 grand prize. A tough day of fishing for all.

Capt. Chris Ware of "Executive Decision" would be closest in second with 20.8 pounds From Anglers John & Jill Paglia, Sam Milazzo & Mike Kasten and take the TD Bank sponsored second place trophies.

Captain Cody Darby fishing the "Kill Box" with Anglers Tyler Kelley, KC Spaulding, Corbin Buckley, and Joey Marino, would take home trophies for third place with a total of 20.1 pounds, Sponsored by Regan/Roth Insurance.

"The Islamorada Fishing Club put on an amazing show," stated the tournament director Dianne Harbaugh. Angler gifts and ditty bags loaded with SWAG were handed out on the kickoff night. Fantastic appetizers followed by a dinner buffet awaited all the anglers and guests. The awards ceremony on Thursday evening was filled with amazing appetizers, followed by a Plated exceptional dinner. All the anglers and Captains are excited and ready to be a part of next year's event, which will be the last Thursday in June 2024.