The Islamorada Fishing Club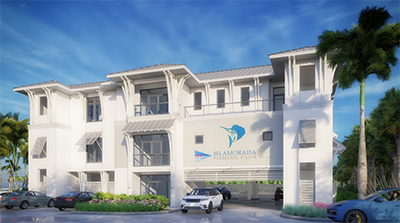 Nestled in the fishing capital of the world, the IFC offers novice and expert fishermen alike a place to experience camaraderie like no other.
If you like fishing and care about the future of our fisheries and environment, you are bound to meet like-minded people from all walks of life brought together by their passion for fishing and conservation at the Islamorada Fishing Club.
Message from the GM (September 2023)
Dear Members,

September 16th is fast approaching for our final closing of our great clubhouse that has served us for so many years.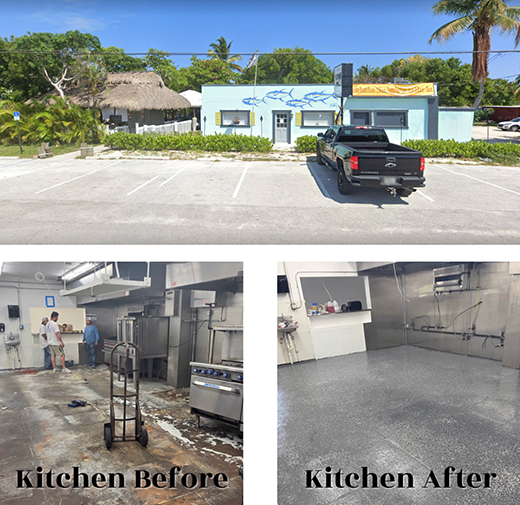 We will be hosting a farewell dinner on Saturday the 16th, similar to our member appreciation Party.

Although our staff will be on vacation, I will be getting us transitioned Into our new Temporary facility, formerly known as "Uncle's" for an October re-opening.

I will be sending updates as to our progress and our re-opening.

The Staff and I would like to thank our members for their continued support during the past year and during our usual hot summer days.

Sincerely,

Vinnie Feola
General Manager
Islamorada Fishing Club


Presidential Update
September 2023

Dear members,

We continue to make progress towards moving into our temporary location after our normal September vacation. I am excited to report we have made a number of improvements to our temporary location (formerly Tuna's/Uncle's Restaurant) including an entire clean out of the kitchen, resurfacing of the kitchen floors, painting of the walls in the kitchen and throughout the dining area, cleaning and painting in and around the bar and painting of the outside deck surfaces.

We continue to work on the grounds around the building and anticipate signage, some landscaping, fence repair, and some exterior painting all being completed shortly. We will begin to move tables and chairs over after September 16 to the main dining room at our temporary location. This along with moving our dock side seating over to our new outdoor seating area should retain some of that familiarity you are used to at IFC.

A great deal of work and thought has gone into this transitional space in an effort to make the experience as close to what you would expect from IFC. We hope you will enjoy it!

Sincerely,
Joe Roth, President
Conetagious wins the 2023 IFC Captain's Cup Dolphin Tournament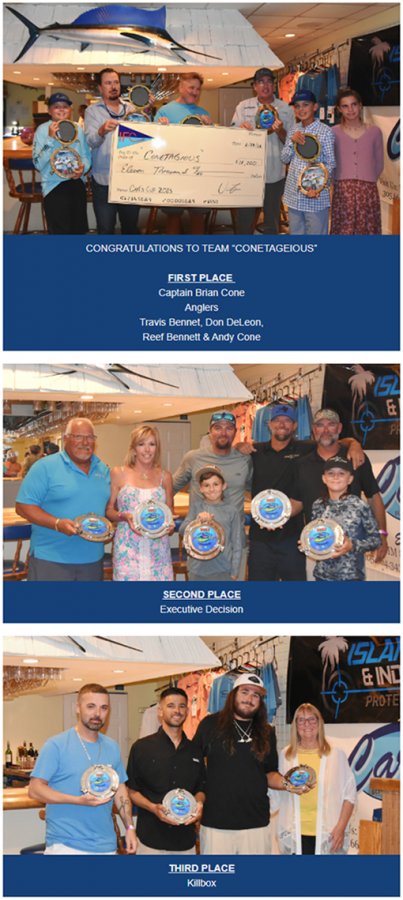 Anglers were greeted with flat seas & extremely hot weather on Thursday, June 29th, for the 23rd Annual Islamorada Fishing Clubs Captain's Cup Dolphin Tournament.

41 anglers headed out to capture three big dolphin. It would be the largest combined weight of three fish that would be needed to win the tournaments $11,000.00 in prize money. When the scales closed at 5 PM, all the stories were the same. There were lots of fish out there but no big ones.

It would be IFC Member Captain Brian Cone aboard the "Conetagious" that would find the three biggest dolphin. Caribee Boat Sales and Yamaha outboards sponsored first-place trophies would go to Anglers IFC Member Travis Bennet, Don DeLeon, Reef Bennett, and Andy Cone. The team would weigh 21 pounds combined to win the $11,000.00 grand prize. A tough day of fishing for all.

Capt. Chris Ware of "Executive Decision" would be closest in second with 20.8 pounds From Anglers John & Jill Paglia, Sam Milazzo & Mike Kasten and take the TD Bank sponsored second place trophies.

Captain Cody Darby fishing the "Kill Box" with Anglers Tyler Kelley, KC Spaulding, Corbin Buckley, and Joey Marino, would take home trophies for third place with a total of 20.1 pounds, Sponsored by Regan/Roth Insurance.

"The Islamorada Fishing Club put on an amazing show," stated the tournament director Dianne Harbaugh. Angler gifts and ditty bags loaded with SWAG were handed out on the kickoff night. Fantastic appetizers followed by a dinner buffet awaited all the anglers and guests. The awards ceremony on Thursday evening was filled with amazing appetizers, followed by a Plated exceptional dinner. All the anglers and Captains are excited and ready to be a part of next year's event, which will be the last Thursday in June 2024.