The Islamorada Fishing Club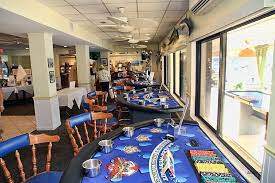 Nestled in the fishing capital of the world, the IFC offers novice and expert fishermen alike a place to experience camaraderie like no other.
If you like fishing and care about the future of our fisheries and environment, you are bound to meet like-minded people from all walks of life brought together by their passion for fishing and conservation at the Islamorada Fishing Club.
Message from the GM (September 2022)
Dear Members,

September 18th is fast approaching for our annual closing for general Maintenance.

Our last dinner service will be Saturday September 17th and we will reopen Tuesday, October 4th For dinner and for lunch on Thursday, October 6th.

Although our staff will be on vacation, I will available to you during the 2 weeks should you need anything or have any questions as you prepare for your return to Islamorada. The Staff and I would like to thank our members for their continued support during the past year and our usual hot summer days.

Well It has been quite a summer this year. The club has struggled with staffing issues this past year and the struggle continues. Our Chef Jeannie has moved on to other endeavors. Thankfully Chef Jean (our Sous Chef this past Year) remains an integral part of the family and with the assistance of our former Chef Dave, are keeping the kitchen up and running. Our new Chef is scheduled to arrive this month and will work closely with Chef Jean and Chef Dave through the month of October.

My assistant Nicole has decided to move back home to N.Y. to be closer to her Grand Parents and go back to College. We wish her the best of luck. We do have a few new faces, Alison, Karen (servers) and Nate our new busboy.

We also said goodbye to 2 long time beloved members of the club. They will be missed by many.
Rest In Peace Sue Rhodus and David Chase.

Sincerely,

Vinnie Feola
General Manager
Islamorada Fishing Club